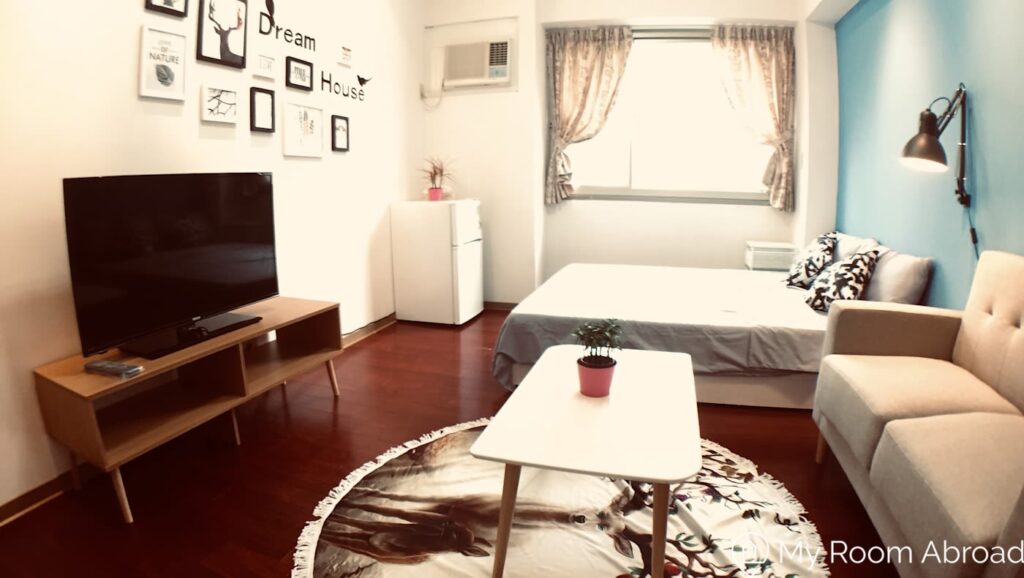 When planning an extended stay, there are several options a foreigner can opt for in regards to accommodation in Taipei. However, given the upbeat nature of Taipei, one of the most popular option tends to be to rent a studio apartment. However, renting can be difficult for a foreigner and scams aren't something that's unheard of here. So, here is some information that will help if you are planning to find rental properties in Taipei.
Living in Taipei
Living in Taipei may just be the most exhilarating aspect of coming abroad to this city. This city has a unique charm about itself, build by the kind-hearted locals and the odd routines within the city. The Taiwanese local are undoubtably some of the most kind-hearted people to have ever grace the earth. There will never be a time when you are struggling and not offered any assistance by a handful of locals. Taipei is also fill with weird little quirks, from garbage trucks driving around playing classical music, to 7-11 being a viable (and sometimes rather good) option for breakfast, lunch and dinner. Despite how strange they might seem to you, these little idiosyncrasies are often the things you miss the most.
Outside of the city there are plenty of activities to keep yourself occupied. Whether you choose to explore the city attractions or choose to go traveling out of Taipei, you are bound to be stunned by the incredible beauty of Taiwan. Living in Taipei will always keep you trilled whether you spend your days in the city or exploring the countryside.
Why Rent a Studio?
The biggest plus side of living in a studio apartment is its convenience. A studio apartment provides privacy and the peace of mind of living alone, all at a reasonably affordable price. Alternatives like shared apartments will be cheaper, however this is at the sacrifice of aspects such as privacy and solitarity. It is up to individual to decide what they prefer, as some enjoy the company of others, while some may prefer a break from the choas of a crowd.
Given this, a room for rent in a shared apartment will cost around $15000 NTD, while renting a Studio apartment will cost around $18000 NTD. If your planning to have lifestyle filled with late nights and traveling, paying the extra bit for privacy and the luxury of coming and leaving at your own leisure, may just be worth it.
When choosing to rent a studio in Taipei, you can choose between either monthly rental and long term rental. While monthly rental will provide more flexibility, long term rental will be more cost effective. All in all, a studio apartment will prove to be an affordable accommodation which can provide privacy and sense of isolation from the chaotic nature of Taipei.
How to Rent in Taipei?
Renting in Taipei can be a tricky affair, especially for foreigners as it's notorious for scams and false advertising. On top of this, numerous landlords across Taipei cannot speak English. So, unless you are proficient in mandarin it might be difficult for you to have clear communication with them.
To avoid these hassles and make your renting experience as simple as possible, My Room Abroad is a great option. We can help your browse over 2000 accommodations across Taipei while curating the results to your preference. Once you find the one, we can also assist you with the booking process. By allowing you to make upfront payments, you can arrange your accommodation before you even arrive in Taiwan. My Room Abroad can also communicate with the landlord on your behalf, eliminating the problems of a language barrier.
Majority of the properties are verified by us, they have been reviewed and can be trusted to be as promised. My Room Abroad can provide you with a peace of mind, that when you arrive in Taipei you won't encounter any rental drama and make the process as convenient as possible for you.
Taipei can be a fun place to live, nevertheless it can still have its fair shares of trouble, especially if you aren't fully aware of how the city functions. Choosing to rent a studio in Taipei, can provide a simple and affordable solution for accommodation. When it comes to renting, My Room Abroad may just be your best friend as it will undoubtedly make the process much easier for you. If you want to read more helpful articles about Taipei feel free to take a look at the My Room Abroad Blog page.