WHAT TO EXPECT WHEN HIKING WULIAOJIAN?
Wuliaojian is one of our favourite hike near Taipei. It has everything!  It is challenging, a great full body workout, you have ropes to climb rocks, exhilarating and frightening ridges and amasing view on New Taipei City. You will definitely NOT get bored during this hike and be so proud of yourself after you've completed it.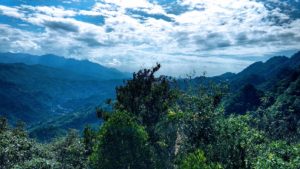 Don't forget to take enough water, I would recommend at least 1.5L per person (more on sunny and warm days!), some snacks, and mosquito repellent or you will be eaten alive! I promise the Mosquitoes at Wuliaojian are real ninjas!
DIFICULTY OF THE HIKE?
This hike is demanding (4/5). You have some really steep part on rough terrain. You need to climb or scale down a rock face. This hike is not to be taken lightly. You don't need to be a professional climber/hiker, in my opinion everybody in good physical condition can do it. However be well prepared for a hardcore, legs- arms stretching and tiring as hell, 5 to 6 hour hike. I would just not attempt it if you are afraid of heights or scaling yourself down a rock.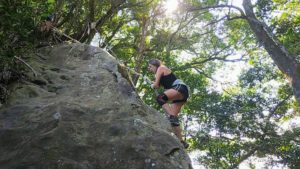 HOW LONG?
The whole hike takes about 5:30 hours but if you get too tired there is a short cut to the exit at some point so you don't have to climb the Wuliaojian peak.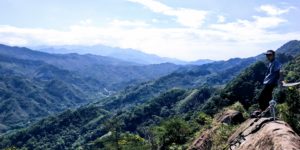 Note that there is a small shop next to the trailhead where you can buy snacks or drinks. They also sell gloves. If you are prone to blisters, I would recommend buying them. They are only 30NTD and worth it as you'll have to grab a lot of rope to climb or scale down.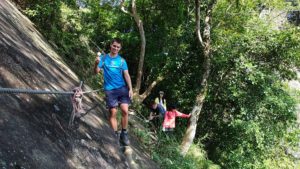 HOW FAR FROM TAIPEI?
Not the most easily accessible hike as the public transportation to the trailhead are infrequent.
Car or scooter: +/- 50 min starting around Ximen.
MRT + taxis: +/- 45 min starting at Ximen (25 min MRT from Ximen to Dingpu station + 15 min taxis drive from Dingpu to the trailhead).
MRT + bus: +/-1h10 starting at Ximen MRt station (25 min from Ximen to Dingpu Station + 20 min in bus 812 + 25 min in bus 807) BUT The waiting time for the bus is not computed in the 1h10! The 807 bus is not frequent you might have to wait 2 hours for the bus to arrive.
HOW TO GET THERE?
By scooter or car:
Just follow your GPS entering: Wuliao Jian Trailhead, Dabu Road, Sansia District, New Taipei City (五寮尖登山口新北市三峽區大埔路) as destination.
This is the trailhead: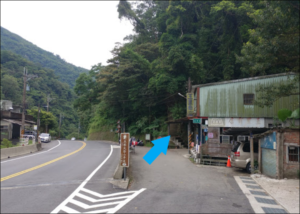 MRT + Taxis:
From anywhere in Taipei take the MRT Dingpu station (blue line)

At the MRT station take a taxi to the trailhead (NT$200 to NT$300).
NOTE: Tell the taxi driver to bring you to Wuliaojian Trailhead (Dabu Road, Sansia District, New Taipei City ) : 五寮尖登山口 ( 新北市三峽區大埔路)
Don't forget to get his phone number or LINE ID so you can call him when you are finished with the hike and ask him to pick you up at the trailhead.
==>Here is a sentence you can show him to get his number:
請問可以給我您的電話號碼或是Line ID嗎?我登山完後想聯絡您,再麻煩您來這裡(五寮尖登山口)接我可以嗎?
Can I have your phone number / LINE ID? I would like to call you when I am finished hiking so you can come pick me up here (at Wuliaojian trailhead).
==>Then when you call him  or send him a text message:
你好,我是載帶到五寮尖登山口的外國人,請問你現在可以來接我嗎?
(Nǐ hǎo, wǒ shì zài dài dào wǔ liáo jiān dēng shānkǒu de wàiguó rén, qǐngwèn nǐ xiànzài kěyǐ lái jiē wǒ ma)
Hello, I am the person you brought to Wulioajian Trailhead, can you pick me up now?
You could also hitch hike your way back to the MRT station if you didn't take the cab drivers number.
MRT + Bus:
Depending on where you start in Taipei, there might be other busses bringing you faster to the trailhead than this route:
However the problem is the frequency of the 807 bus 🙁 I would not recommend to take the bus as it can take you up to 3 hours to get to the Wuliaojian trailhead from Dingpu MRT station.
Here are some more pictures of our last Wuliojian hike: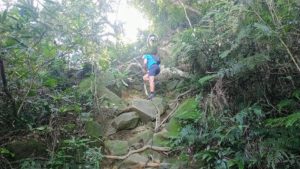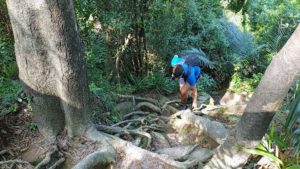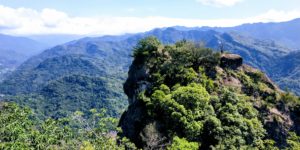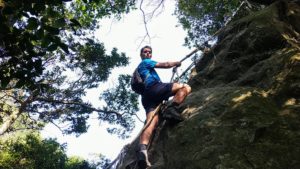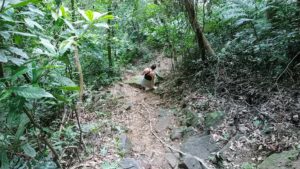 Let us know how your day went 🙂  
If you liked this article you can follow our Instagram for daily ideas of things to do in Taiwan!
OR if you want us to organise transportation and guidance for the hike, PM our Facebook page: My Room Abroad: Make your stay abroad unforgettable