Hello Hike lovers!
If you love the fresh air, mountain scenery and breathtaking views, you came to the right country! Taiwan has so many wonderful hikes to offer. We have compiled here our TOP 10 hikes you must do while in Taiwan!
Overnight hikes:
Jade Mountain Main Peak
If you are in Taiwan for a few months, this hike should definitely be on top of you To Do list! You can expect, breathtaking views, unforgettable memories and the the satisfaction of having conquered the highest mountain in Taiwan! Although this is the highest mountain in Taiwan, the hike is fairly easy and can be done by a fit beginner without any problem. Note that you need to apply for the permits long in advance to be accepted to the hike and they can be quite a hassle to get.
2. Snow Mountain  East and Main Peak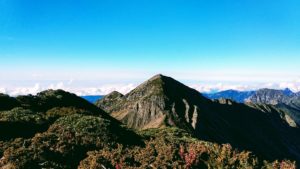 Snow Mountain, is the second highest mountain in Taiwan. It offers wonderful views on the rocky mountains surrounding the area. The hike is a bit more difficult than Yushan as a bit more steep. But the feeling of satisfaction on the peak is even better and anyway the views are so awesome, that it is worth the leg pain.
You also need to get permits for this hike, however, you don't need to apply for them as long in advance as for Yushan.
3. The Wuling Sixiu
The Wuling Quadruple regroup four peak that are generally done two by two on a 2 days hike. Mount Chiyou (3303m), Mount Pintian (3524m), Mount Tao (3325m) and Mount Kalaye (3133m)  are the four peaks guaranteeing you a challenging hike with stunning mountain scenery and views. This hike is a tad more difficult than the two first one, and is not to do as your first big hike ever.
4. Chia Lo Lake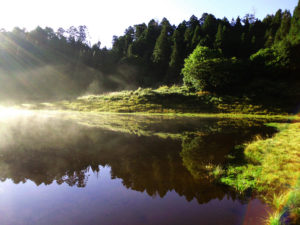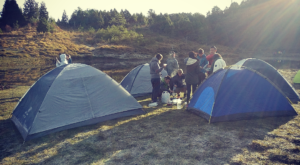 Camping on a mountain next to a lake is something to experience once in your life. The remote feeling you get is unbeatable. Moreover, the hike is mainly made of natural dirt path or tree roots stairs. It can take you up to 6 hours to reach the lake depending on where you start the hike. Indeed, if you go by bus, you have to add a 2 to 3 hour walk on the road before reaching the trail head.
Hikes you can do in one day:
5. Taroko Jhuilu old trail
This stays a must do in Taiwan. However I have to admit I was a bit disappointed by the fact that the trail was closed (and has been for a few years now) right after the cliffs. So you are forced to go back the same way you came. The hike however, still makes it to our top hikes in Taiwan because the view from the cliffs and the walk on the narrow path stays an unforgettable experience that I recommend. You also need permits for this hike and to pay a fee to enter (around 200 NTD in May 2018). It will take you about 3 hours to go back and forth. But as you will be in the Taroko National Park, there are plenty of other hikes, for which you don't need permits, that you can do around.
6. Hehuanshan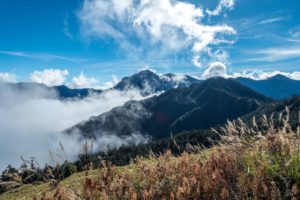 Hehuanshan is the perfect beginner hike if you are not sure to be fit enough for high mountains. It will give you this high mountain experience without the exhausting part of the hike. Hehuanshan is the most accessible high Mountain in Taiwan. The road brings you up to 3275 meter above sea level, which definitely makes it the highest road in Taiwan. Then the hike up to Mount Shimen top (3237m) is super easy. It takes about 20 min and is one of the easiest high mountain peak. Then you can try the main (3417m), north (3422m) and, east peak (3421m) if you feel like it. All of them are super easy hikes and really doable in one day.
7. Wuliaojian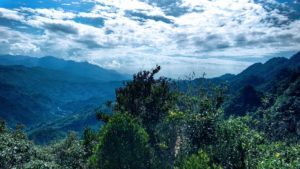 My personal favorite day hike. The hike regroups everything I love: challenging hike, rope climbing, natural dirt and rock path in the forest which all in all makes is a prefect full body workout. It took us about 5 hours to complete the hike and we were so awesomely satisfied after it. The only down side of this hike is reaching the trail head from Taipei. The best option is to take a Taxis from the end of the Blue line. Anyway you won't be disappointed by the view on top and the fun you'll have reaching the razor-like peak!
8. The four beasts

Elephant Mountain, Tiger Mountain, Lion Mountain, and Leopard Mountain make the four beasts. It is a perfect day hike around Taipei. The trail will take you 2 to 3 hours to complete. The hike is really easy and made of man made stone path and stairs.  If the weather is good, you'll get awesome shots of the city.
9. Huang di Diang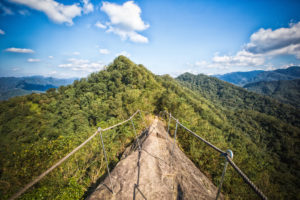 Another awesome day hike from Taipei. It is made of natural path with lots of ropes and ladders to climb. After your ascension you reach a ridge and the hike gets super easy. Just enjoy the views, on the super narrow ridge. The ridge is actually the awesome part of this amazing hike. I would say this hike was a little bit less difficult than the Wuliaojian one, but still pretty similar. We could stay on the peak for hours looking at the stunning views.
10. Pingxi Crags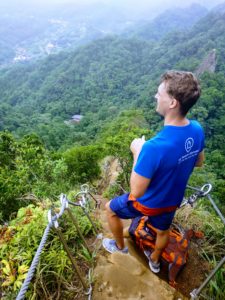 Nice easy and small hike around the Pingxi crags is a must do when you stay in Taipei. Everybody can do it and the feeling on top of the crags is awesome. Try to pick a dry day to hike the crags, I find those stone stairs pretty slippery when it rains.
If you think this list is not right because you know an even more awesome hike, please leave a comment! We would love to hear about your recommendation!