What a wonderful discovery!  Xiaoliuqiu also called Lambai Island.
With the My Room Abroad team, we went there on a long weekend (for the 2/28 Taiwanese Holiday). We had heard it was a nice spot to see Sea Turtles! And we were not disappointed!
WHAT TO EXPECT:
Xiaoliuqiu is a tiny island of 6.8 km2 (2.6 sq mi) and it is the perfect place to get this island vibe, relax, and disconnect from the busy Taipei life.
If you want to swim with BIG sea turtles you will not be disappointed!  You can get really close! Take nice pictures if you have a waterproof camera but please be respectful and do not touch those poor turtles!
Nice spots to snorkel:
The Vase Rock(but as we were there on a Taiwanese holiday it was a bit too crowded for us)
At a beach
or at Gebanwan (another bigger beach)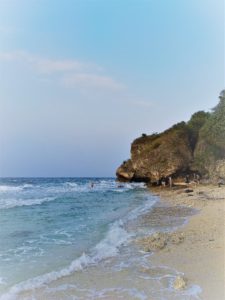 **(sorry for the quality of the pictures :s we didn't have a good camera with us )
Next to the main attraction on the Island (the sea turtles :)) there are a few spots that are nice to see, like the Lobster cave, the Black Dwarf cave, some pavilions with nice views (for sunrise, sunset, to see the sea).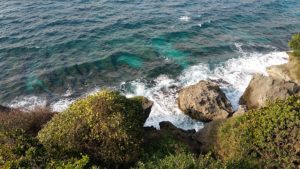 You can do the round tour of the Island in less than one day (we did it in about 45 min but didn't really stop for the view points).
At night, everything happens around the main street close to the harbor! There are plenty of restaurants and bars.
We went to an all-you-can- eat "seafood" barbecue restaurant. The concept is nice. You have a charcoal barbecue in the middle of your table, you go get your food to grill in the fridges and grill it at your table. You have a lot a of seafood (shrimp, clams, oysters, squid,..), but also chicken, beef, pork and plenty of vegetable to grill. We paid 380 NTD per person and drinks were not included.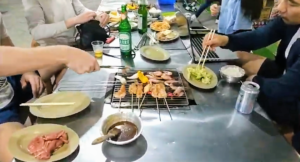 LOCATION:
In Pingtung County, in the Liuqiu township: https://goo.gl/maps/vrLqmSy8rLC2
HOW TO GET THERE:
From Taipei:
By Public transport: Take the High Speed Rail  (or the bus but it will be LOOOONG) to Kaohsiung then the TSHR or the bus to Kaohsiung Harbor

By Car: with your own vehicle take the Highway 3 then Highway 1 to Kaohsiung. However I would not recommend going with your own car as cars are not allowed iin the Island, you have to park your car near the kaohsiung Harbor. If the main parking is full, you need to wait that cars get out before you can get in, so you might need to queue for a few hours before you are able to park your car. There are other parkings that cost up to 300 NTD per night
So if you want to go by car better hitch hike. It more fun anyway 😛
Then from Kaohsiung Harbor, take the ferry to the Island (20 min boat) and a return ticket costs 410 NTD
HOW TO GET AROUND:
We recommend renting a scooter for the day (we got one at 400 NTD for 24h). It the nicest way to get around. But you could really do everything by foot (the Island is that small :P)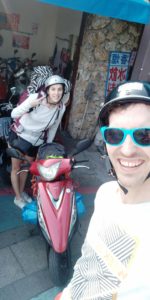 Have fun! And let us know how it was!