What to expect?
A big waterfall, really pretty and photogenic.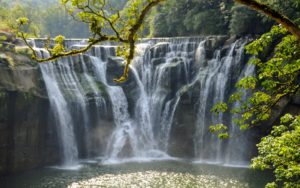 Touristy place, depending on when you go it can get quite crowded (favor weekdays rather than sunny weekends!)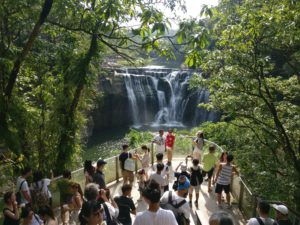 Walk on a paved trails, stairs, wooden path and various bridges for about 10 to 20 minutes (round trip) in a nice scenery.
You cannot swim there but the waterfall is impressive and if you are in the neighborhood I think it is a nice spot to see.
The park is open from 9am to 6pm (last entrance to the park being at 5:30pm). No entrance fee is required and there are some food stands close to the waterfall.
How far from Taipei?
About 1h15 bus ride. The falls are easily accessible as the bus drops you at the visitor center and then you can just follow the trail.
How to get there?
From anywhere in Taipei
Take the MRT or bus to MUZHA MRT Station (brown line)

At Muzha, get out at the only exit and go to the road 106.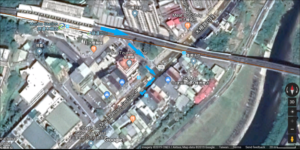 Take the 795 bus Towards Shifen Falls. (bus stop that is on the side of the road that has the OK mart (NOT the 7-eleven)).

Stop at the Shifen Visitor center stop (it is actually the last stop of the bus)
As it is a pretty touristy place, from there on it is well indicated how to get to the falls just follow the trail or the people.
Let us know what you thought about the Shifen Falls!
Here's an other article in English about the Shifen Falls.
We hope that you are fully enjoying your time in Taipei and that these articles help to make your stay unforgettable. If you have friends who are coming to Taipei soon, you can help them to find an apartment by having a look on our website myroomabroad.com .