WHAT TO EXPECT?
It is a really popular day trip from Taipei because this hike is really cool, fairly easy (⅖), doable with kids (there are some steep staircase with ropes so maybe not with toddlers) and offers everything to recharge the batteries in the nature.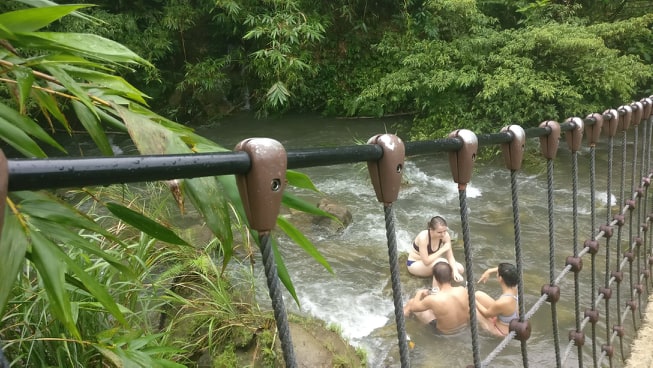 The hike in itself
You will first walk on stairs for about 20 min then a little bit more ascent on dirt path, then the trail levels out on the same dirt path and from there the hike is really easy. You get to walk on a wonderful scenic path surrounded by nature, crossing hanging bridges and stopping at waterfalls (even getting into the water if you feel like it).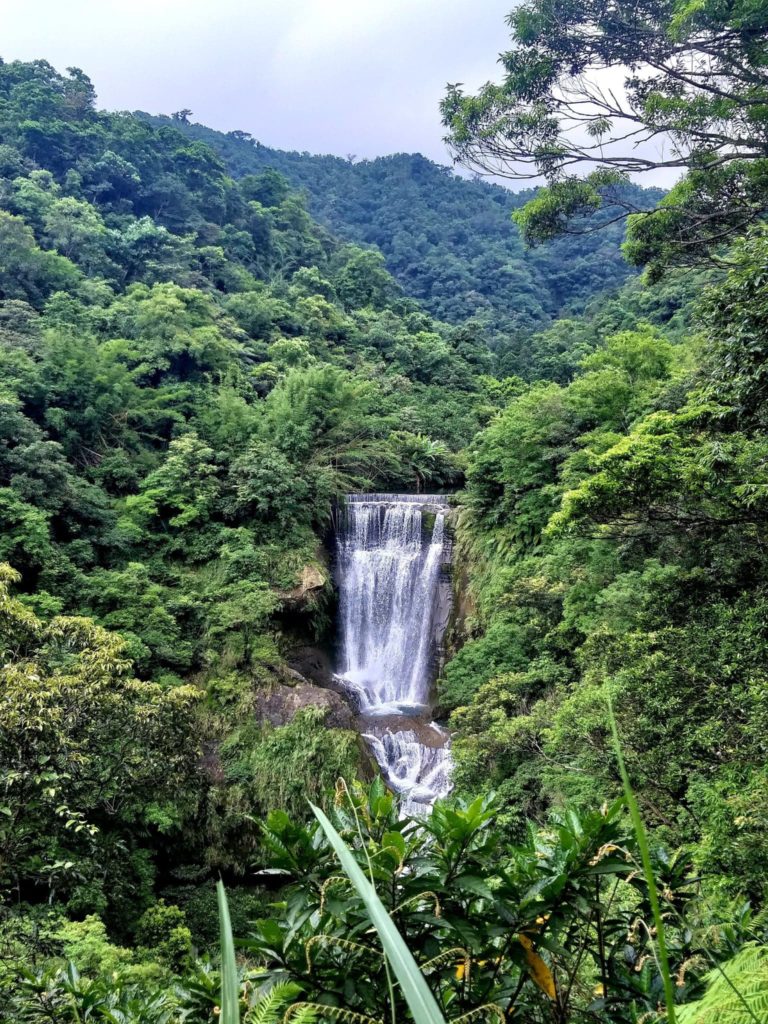 The first waterfall is the Hegu Waterfall. You can only see this one from afar. It is a huge waterfall, there is a nice viewing platform from which you can take great pictures.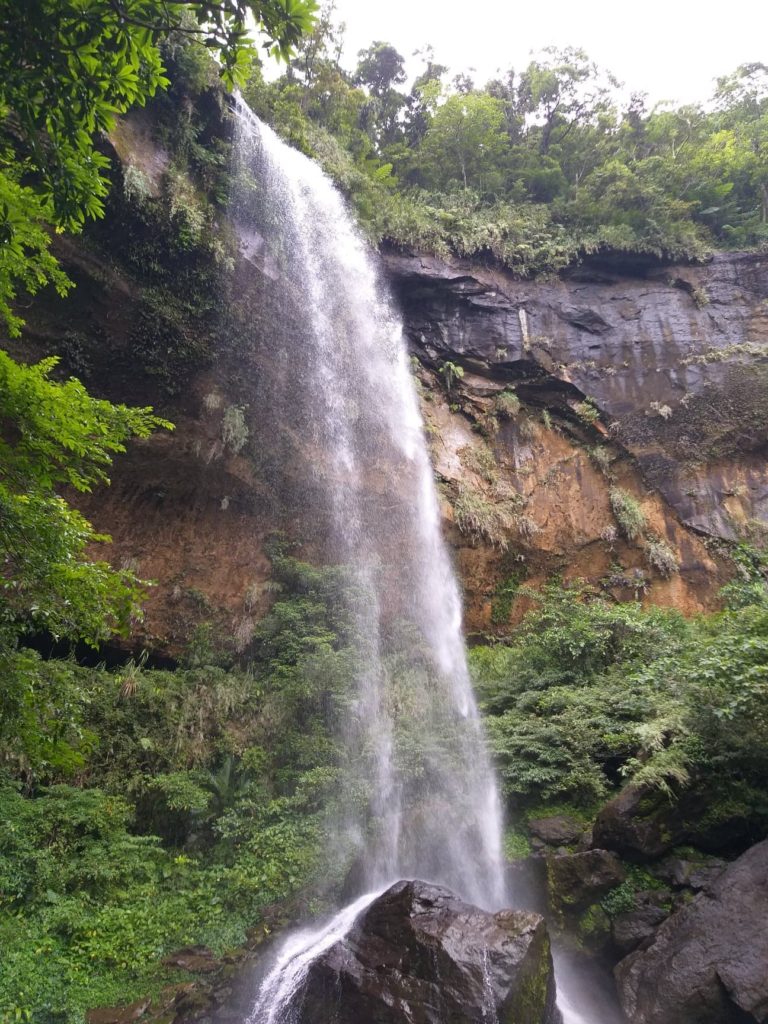 The second waterfall is the Motian Waterfall. There too there is a wooden viewing platform which offers a great view of the waterfall.
However, if you feel more adventurous, you can get almost behind the waterfall. For this you need to take the little hidden path off the trail. From the viewing platform, walk up a little further, then on your right, you will see a little path in the bushes.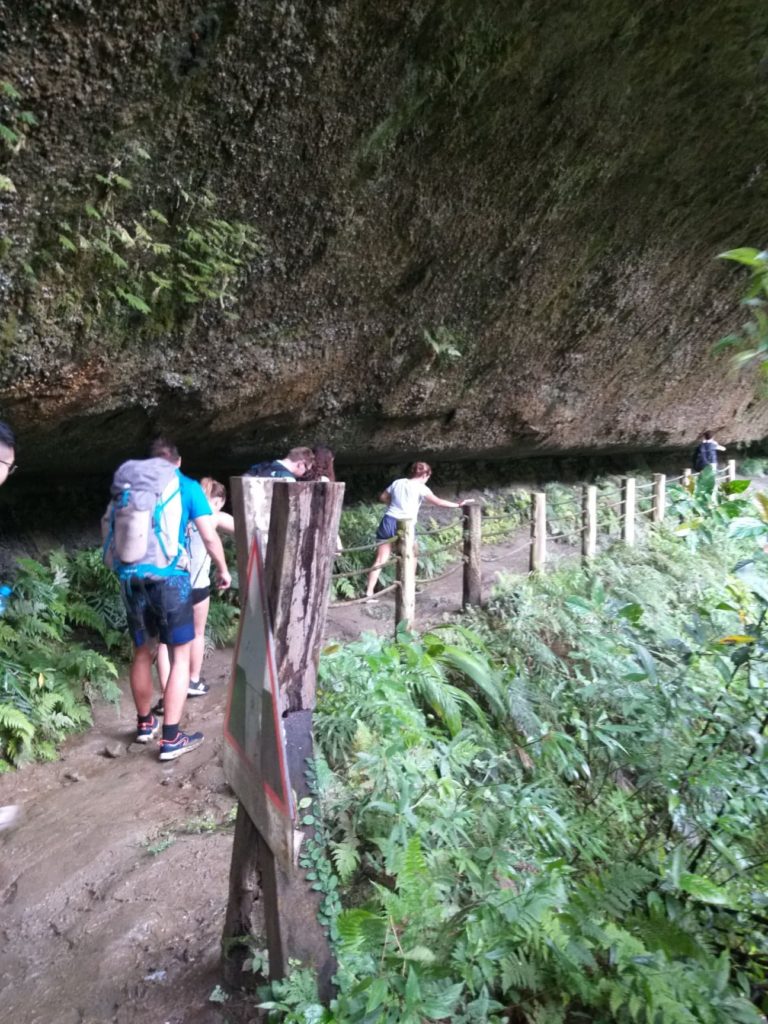 Follow the path and you will soon see the narrow path in a semi cave that leads behind the waterfall.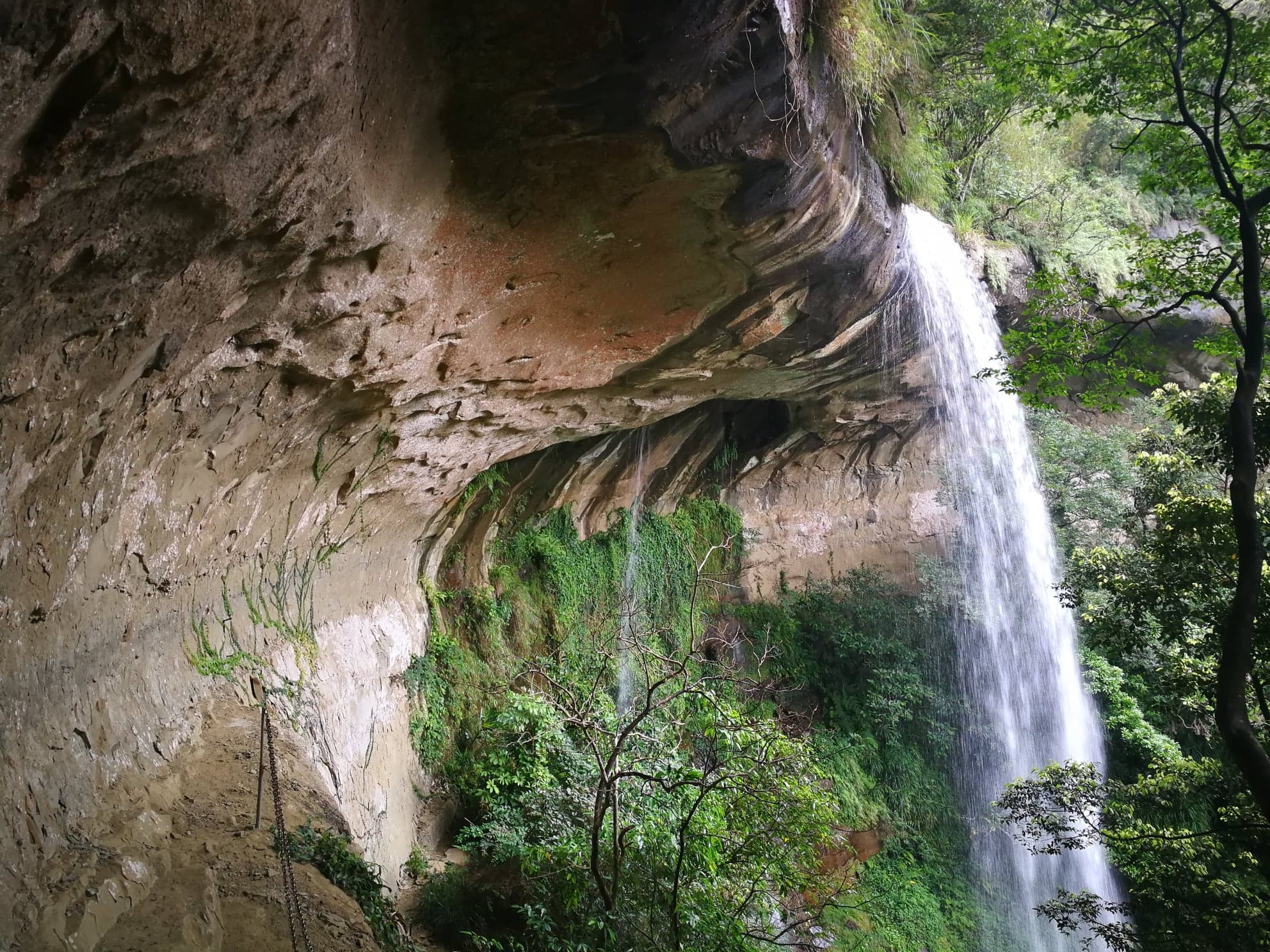 Then you get back on the trail and shortly after you will arrive at the Pipa Cave which looks a lot like its sister, the Motian fall, but is often quieter, with fewer people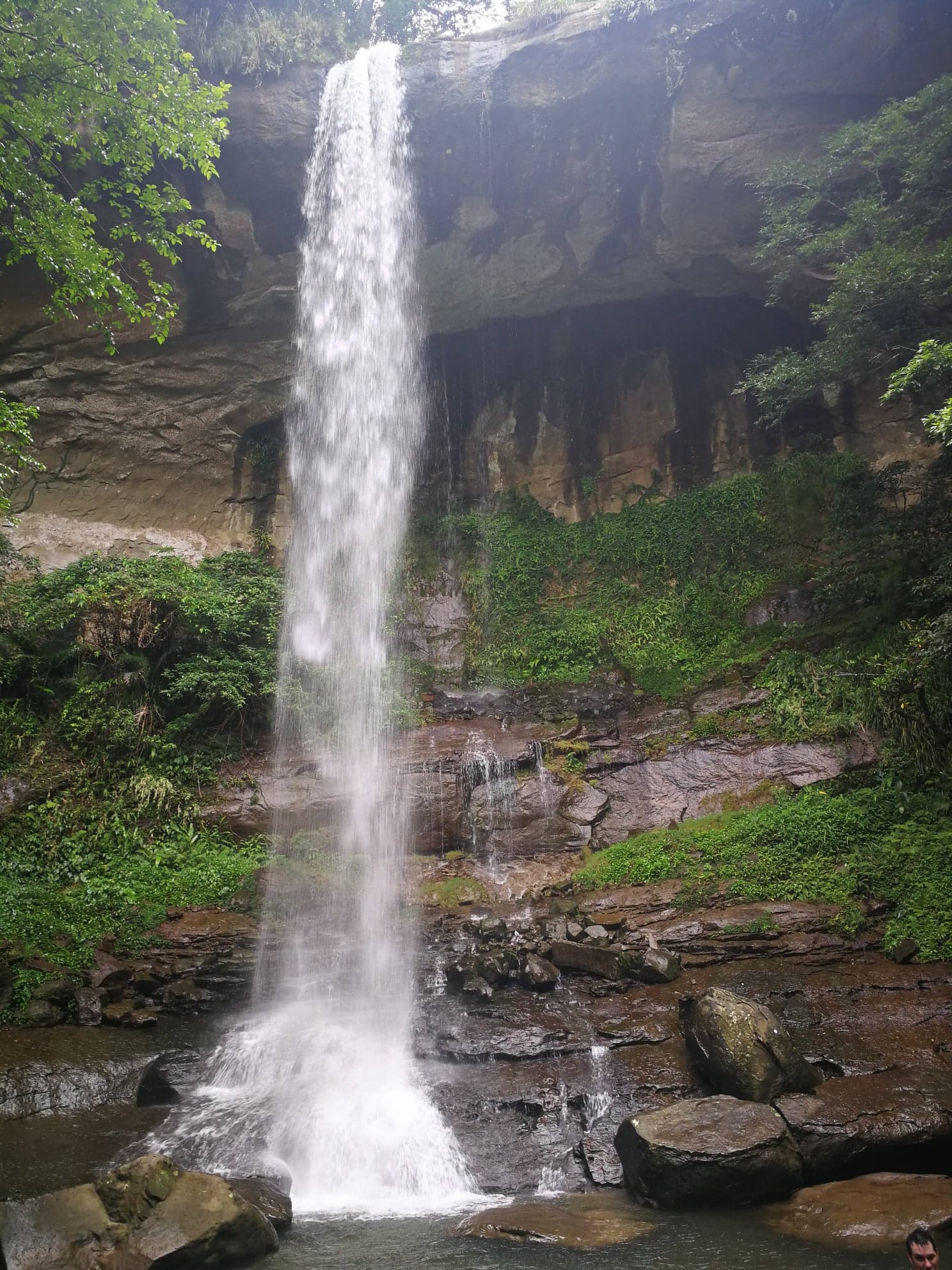 The two last waterfall are great spots for a little break, a picnic or a swim.
Once you reached the last waterfall you have several options.
Either you get back to the Sandiaoling train station the same way
Or you can get out of the Sandiaoling trail (after passing a wooden ladder and reaching the concrete path). You have to turn right onto the concrete path and take the Chialiao Historic Trail (follow the signs). This trail is 6 km long and will get you to Houtong- the famous Cat village, from where you can take the train back to Taipei.
On the concrete path you can also turn left and get to Dahua Train station (in about 20 min) to take the train back to Taipei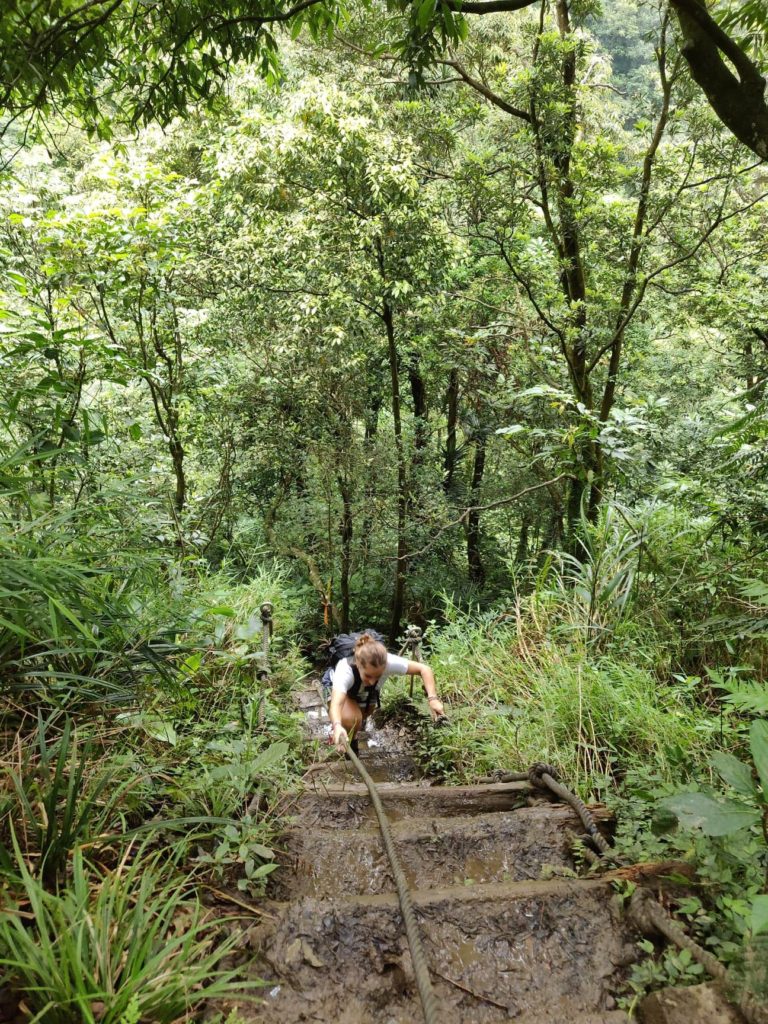 From the train station, rather than directly going to Taipei you can stop by Shifen to see this l huge waterfall or by Pingxi to release a sky lantern or hang out at a cool waterfall like Lingjiao if you are not yet fed up with waterfalls 😛
DIFFICULTY?
This hike is fairly easy (⅖) as it is leveled out and does not require special abilities. Think of bringing good non slippery shoes that can get wet just in case. The path can get really muddy if it has rained a lot and at some point you walk on slippery rocks.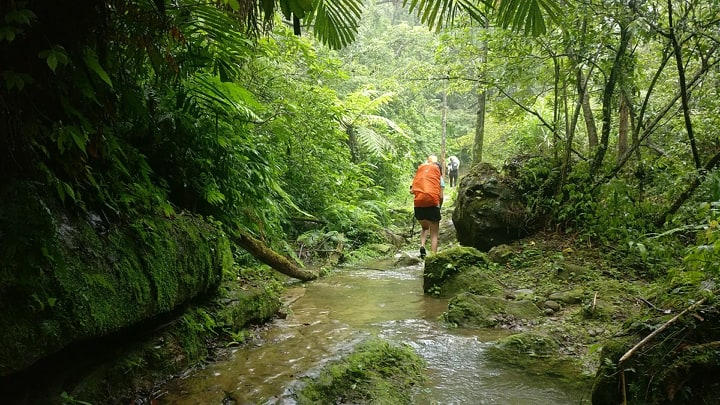 TIME?
It will take you about 1h30- 2 hours from Sandiaoling train station to the last waterfall (2.5k). Then depending wish option you chose to get back to Taipei it can take you between 20 min to 3 more hours.

HOW FAR FROM TAIPEI?
About 1 hour train from Songshan train station and it will cost you about 50 TWD (last update July 2019)

HOW TO GET THERE?
From anywhere in Taipei
Get to Songshan Train Station (or Taipei Main Station but we feel Songshan is a better meeting point to find a group)
Take the Fuxing shuttle
Get off at Sandiaoling Train station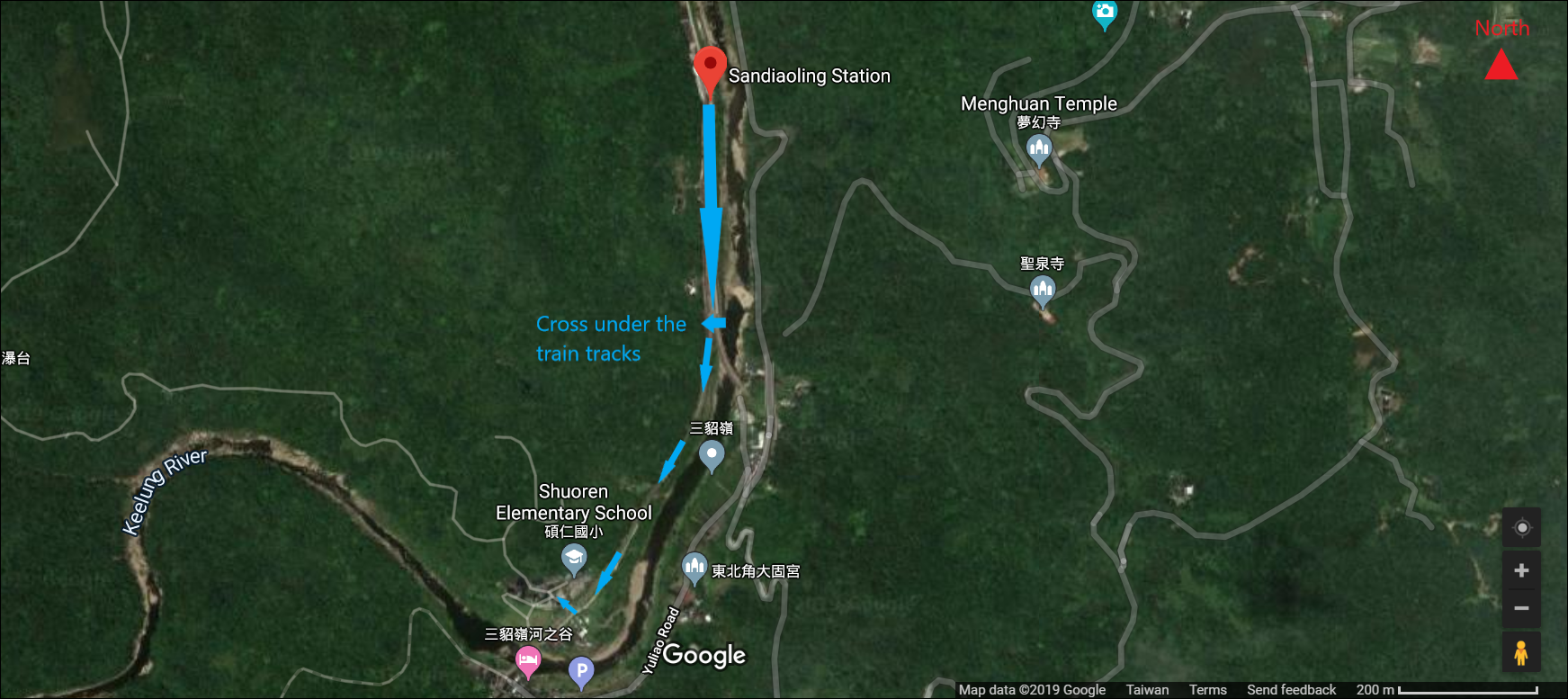 Walk along the train tracks going south towards the tunnel.
Before the tunnel, when the tracks split up, take the pedestrian path going under the train tracks.
Follow the train track on your right a little further
You'll arrive at a small village, and should see the entrance of the trail marked by signs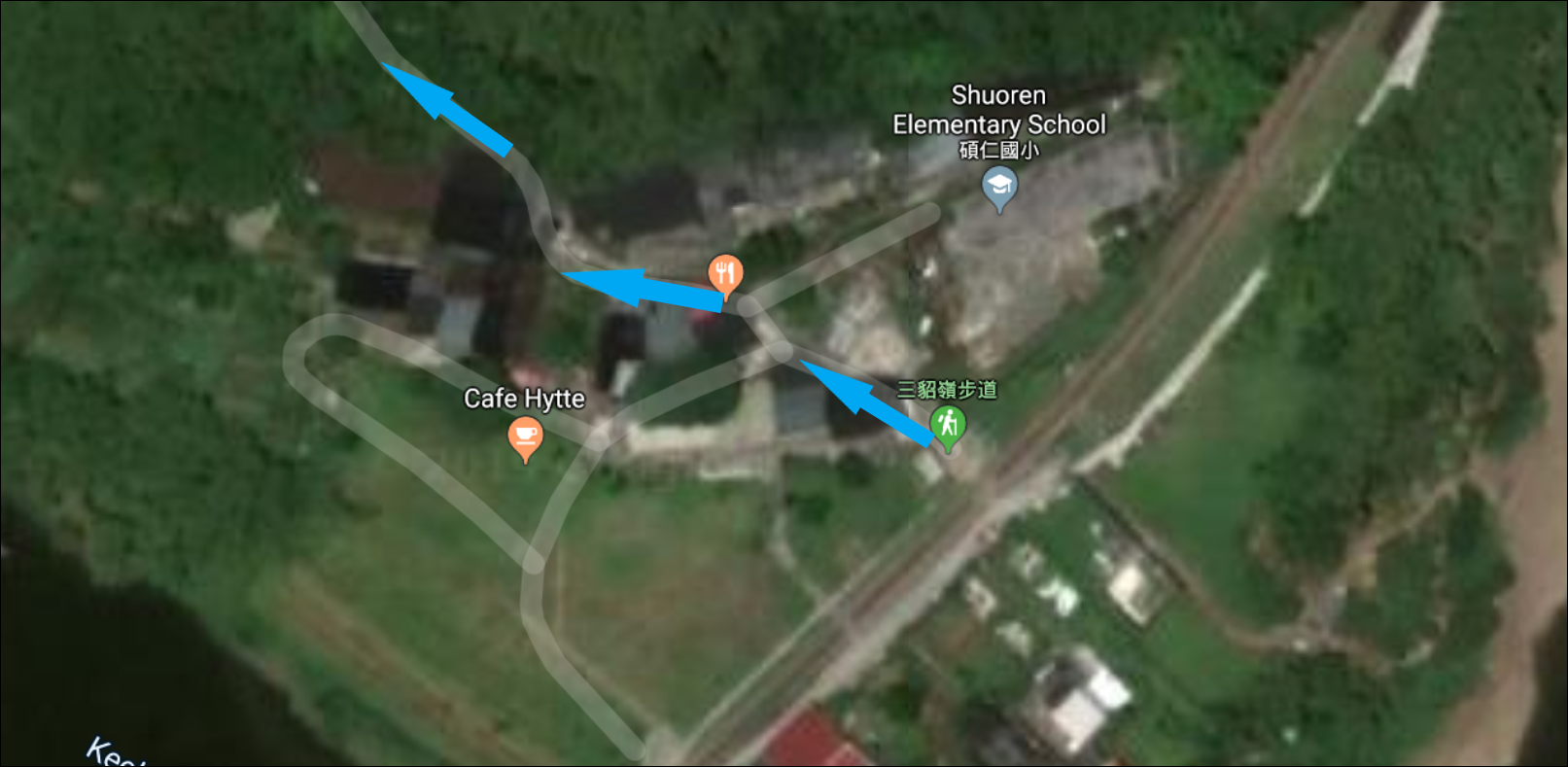 If you want to read an other blog article in English about the Sandiaoling Waterfall trail, you can find it here.
Let us know how your hike on the Sandiaoling Waterfall Trail went!
We hope that you are fully enjoying your time in Taipei and that these articles help to make your stay unforgettable. If you have friends who are coming to Taipei soon, help them by having a look on our website myroomabroad.com to help them to find their new home in Taipei.
OR if you want us to organise transportation and guidance for the hike, PM our Facebook page: My Room Abroad: Make your stay abroad unforgettable