WHAT TO EXPECT?
Pingxi crags is an easy small hike in Pingxi District. There are 3 peaks you can do in about 2 to 3 hours (or even less depending how long you stay on top to take pictures :P).
Each peak offers an exciting, and sometimes challenging, walk well rewarded by the amazing view once you've reached the top.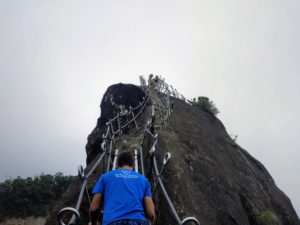 Going up is pretty easy but going down might be a little bit more difficult if you are afraid of heights (I would actually not recommend attempting the peak if it is the case).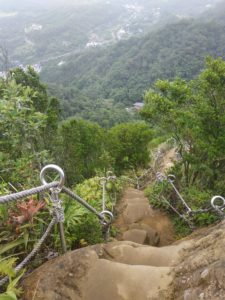 Definitely a recommended hike! You will not be disappointed but don't expect it to be really physically challenging. However, try to avoid going on sunny weekends or holidays as the crags might be overcrowded and it takes over all the fun. Or going on a rainy day because it gets quite slippery. The perfect day to do this hike would be a sunny weekday if possible or a less sunny or cold but dry weekend 🙂
How far from taipei? 
About 35 min bus from Muzha MRT Station + either a 2 min walk to the first trail head or a steep 15 min walk to the second trail head.
HOW TO GET THERE?
From anywhere in Taipei.
Take the MRT or bus to MUZHA MRT Station (brown line)

At Muzha, get out at the only exit and go to the road 106.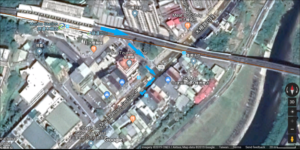 Take the 795 bus Towards Shifen Falls. (bus stop that is on the side of the road that has the OK mart (NOT the 7-eleven)).
Stop at Pingxi station.

Stay on the same side of the road and head east.

You will find the trail head 100m further on your right. 

You'll know you have found the trail when you see a steep staircase 🙂

OR there is a second trail entrance. You can stop at Pingxi Junior High School.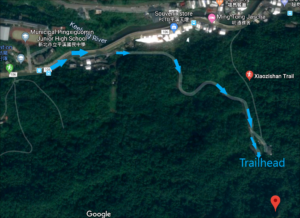 Head east as well and take the first road on your right. This is a 15 to 20 min walk on a steep asphalt 

road until you reach the trail head. This way is actually recommended if you have a scooter or a car because you can easily park in front of the trail head.
Here are some more pictures of our last trip to the Pingxi Crags:
We were there on a cloudy weekend in 2018 and we had the crags almost to ourselves!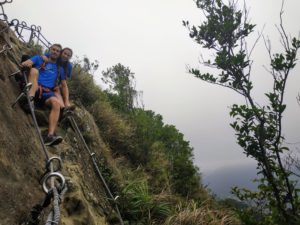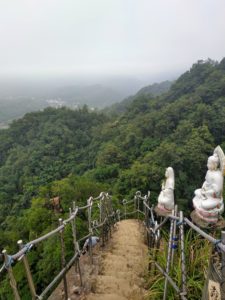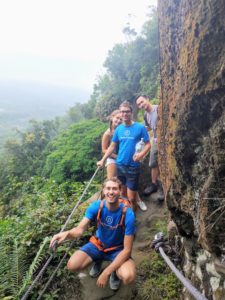 Let us know how your day went!
Here is an other article in English about the Pingxi Crags.
We hope that you are fully enjoying your time in Taipei and that these articles help to make your stay unforgettable. If you have friends who are coming to Taipei soon, help them by having a look on our website myroomabroad.com to help them to find their new home in Taipei.