What to expect?
Large waterfall (+10 meter high).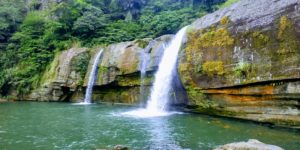 There is a pool where you can swim.

The water is deep enough so you can jump from the waterfall! However be careful and always check if there is no rock or wood that has fallen and is underneath the waterfall before attempting to jump from it!
To jump, go back up the stairs you came from and a few meters before the end of the stairs you will see a, sometimes closed, fence on your left. This is the way to get on top of the waterfall.
All in all is is a nice waterfall to hang out at. We could easily spend the day, jumping and swimming in the pool, having a barbecue and some beers.

How far from Taipei?
Easily accessible by bus from Taipei. 45 min bus from Muzha + a 15 min walk from the bus stop.
How to get there?
From anywhere in Taipei:
Take the MRT or bus to MUZHA MRT Station (brown line)

At Muzha, get out at the only exit and go to the road 106.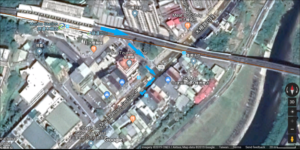 Take the 795 bus Towards Shifen Falls. (bus stop  on the side of the road that has the OK mart (NOT the 7-eleven)).

Stop at Tianzi (Lingjiao Station).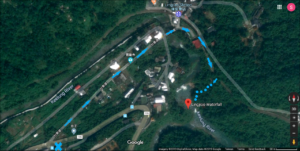 Cross the street and take the smaller parallel street in front of you.

At the end of the street, right after the bridge take the path to the right (its seems like you are entering a property but you are not 🙂

Go to the left of the building and you will see the train station. Continue forward for a few meters walking next to the train tracks

On your right you will see some stairs going down to the waterfall.
Some more pictures: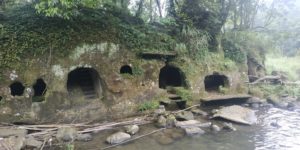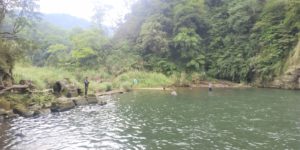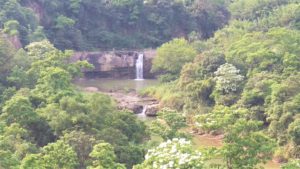 Let us know if the instructions are still correct and how you liked it!