WHAT TO EXPECT?
Nice waterfall where the minerals in the water gave an orangy colour to the rocks. The golden color + the fact that the waterfall lies in the old gold mining region gave the name to this pretty waterfall.
If you ask us, this waterfall is a little bit overrated though. Note that we are nature lovers and not really found of those really touristy spots. So a waterfall in which you can not swim (apparently the water is very toxic due to its proximity to the gold mining area) and enjoy the surrounding nature must be really impressive for us to like it. Unfortunately, the Golden waterfall was a little bit disappointing for us. I wouldn't go there only to see it.
However, if you plan on going to Jiufen or hiking the Teapot Mountain, you can definitely pass by to take a nice shot of the fall like we did 🙂

HOW FAR FROM TAIPEI?
40 min train + 30 min bus
40 min by car

HOW TO GET THERE?
Train + Bus:
From anywhere in Taipei, go to Taipei Main Station
Take the train to Ruifang Station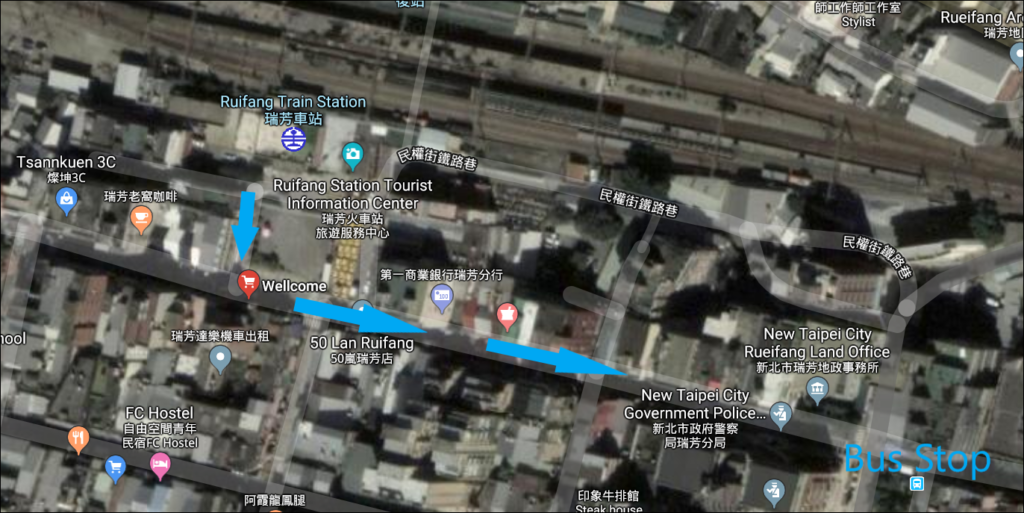 At Ruifang Station take the Exit West to get to the bus station
When you have exited the station and are facing the Welcome take left and walk for about 250 meter.
When you see the police station on your right, the bus stop is next to the police station.
Take the 856 Fulung Visitor Center [Taiwan Tourist Shuttle]
Stop at Huangjin Waterfall
The Golden waterfall is right next to the bus stop, you really can't miss them as they are not really hidden :p
Thank you for reading our article! Our team has been helping foreigners like you to find apartments and studios in Taipei for the last 3 years. Help us to keep the adventure alive by visiting the myroomabroad.com website and by sharing it with your friends!
Let us know what you thought of the Golden Waterfall!