Are you looking for a cheap car to rent in Taipei and do you have an international driving license? We have tried Gogoout.com which is one of the cheapest and most flexible car rental companies that we have come across in Taipei. You can rent a car for as little as 1280 NTD per day, which is almost half the price of other car rental companies for foreigners. You'll just need one driver with a valid international license to rent the car. And if you register through this link, you get a 100 NTD discount on the price!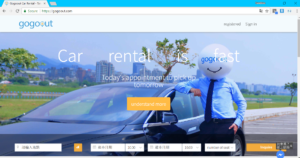 If it is the first time that you rent a car in Taipei, it might have 2 questions in mind. First, can you rent a car with your international driving license? And second, where's the cheapest or most convenient car rental company? After doing some market research for our weekly activities for the Beer and Waterfalls in Taiwan group, the My Room Abroad team has found that it is relatively easy to rent a car in Taipei. However, finding a car at a reasonable price is another fight. Most car rental companies which accept the international driving license will charge 2000 NTD per day. This is too expensive for the My Room Abroad student community.
The cheapest car rental company in Taipei that we have tried is called Gogoout.com . We rented a nice Toyota Yaris for 1280 NTD per day. You can also rent slightly bigger cars for 1298 NTD per day and get a small family car for 1589 NTD.
On one of our trips we used the car to drive all around the island. First, we went down to Kenting by the West Coast to enjoy the beaches. Afterwards we came back North on the breathtaking East Coast. On the way we stopped at the unavoidable Tarokko Gorge National Park and we finished the week by driving along the North Coast, with its many beaches.
In short, if you have an international driving license and you are looking for a cheap car to rent in Taipei, Gogoout.com is used to handle requests from foreigners and they have some of the cheapest cars around!
Insurance Note: 
If you want to rent a car with full insurance coverage, the prices increase but it might be a good idea. These are the stores recommended by Gogoout:
These are the prices for full insurance coverage.
If you want to have a look at other car rental companies, please refer to this article.
We hope that you are fully enjoying your time in Taipei and that these articles help to make your stay unforgettable. Our team has explored Taiwan over the last 3 years and our main job is to create a clear website to help foreigners like you to find their apartment or studio in Taipei. You can have a look on our website if you are curious about what we do and share it with friends who come to Taiwan soon.