WHAT TO EXPECT?
Amazing wild hot springs where you have natural baths (made out of rocks by the locals) going from SUPER HOT on top to nicely warm at the bottom and then the river passing right next to the last bath for when you need to cool down.
Super relaxing free spa! There is grey mud, I think it is clay but i'm not sure. Locals put it on their face and body. I guess there is some benefit of doing so 😛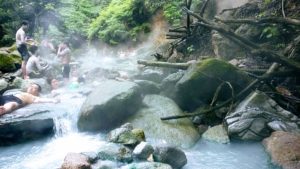 Note: When you type "Bayan Hot springs" on Google, it says "permanently closed" . It is indeed closed, there is a big fence preventing you to enter the hot springs. BUT locals always find a way around that fence. However note that it is not allowed by the government to go there and you risk a 10k NTD fine if the police comes (Never happened to me but happens from time to time).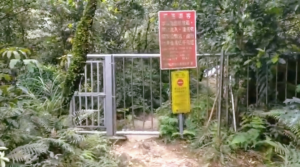 Also note that you have to walk about 30 min to get to the hot springs. The trail is made of dirt and rocks. I do not recommend flip flop on the rocky path. Moreover at some point you need to cross a river (there are big rocks to cross,  the handmade bridge from the picture does not exist anymore).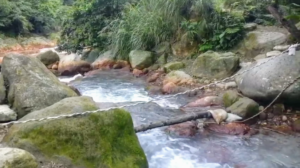 When to go?  Any day and time. If you go on weekends it can be quite crowded, but even on weekdays! Sunny or rainy days, morning, afternoon or night, there will be people in those hot springs.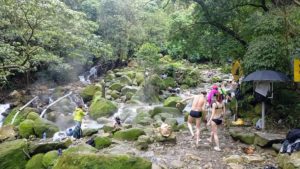 HOW FAR FROM TAIPEI?
From Jintian MRT station:  2h by bus + 30 min walk.
HOW TO GET THERE?
Take the MRT to reach Jiantan MRT station Red line

Get out at Exit 1

Head north and cross the road on the first crossing to the right. The bus stop will be right next to it. It is the Mingchuan University bus stop.
Take the 1717 bus (there is one every hour). If you missed it, you can also take the 260 shuttle bus and stop at Yangmingshan bus stop (right in front of a 7/11) and then take the 1717 bus. The 260 is a little faster so you might be on time at Yangmingshan bus stop to catch the 1717 .
Stop at: Qiangxin bus station.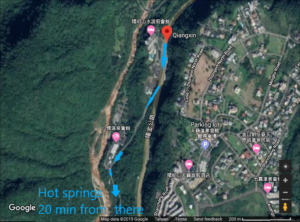 Head south (the opposite direction the bus was going)

Take the small street on your right. At the end of the road there is a small parking and you will see the trail head. (It's not indicated as a trail, you just continue the road further and when it becomes dirt and rocks, you know you are on the trail 🙂
Let us know how your trip to Bayan went!
And if you want us to organise your trip to the hot springs contact our Facebook page: My Room Abroad: Make your stay abroad unforgettable