Lacking some sea and sun in Taipei? Willing to relax on a wonderful beach, dance the night away in a club or wonder around in a National Park? A weekend in Kenting is exactly what you need!
How to get to Kenting?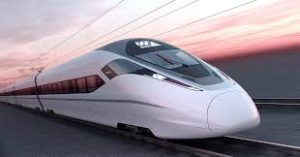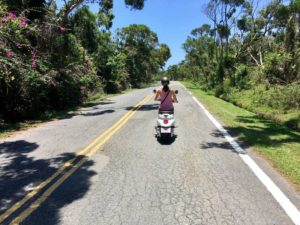 Where to stay in Kenting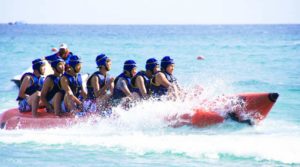 How to get to Kenting?
High Speed Rail (Total cost: about TWD 3600)

Take the HSR from Taipei Main Station to HSR Zuoying Station. Travel time: about 2 hours. Price: about TWD 1490 one way, you can get discount up to 35% discount reserve your ticket in advance (5 to 28 days in advance from 10% to 35% discount). For more information on high speed rail schedule and price, please visit the official website of Taiwan High Speed Rail (HSR)
From HSR Zuoying Station take the bus to Kenting

Regular bus costs TWD 300- 315 and takes about 190 Min
Express Bus cost TWD 350- 370 and takes about 150 min
You can also take the bus to Henchung if you wish to start your journey there- (TWD 305 for the regular one, TWD 286 for the express one)
Train (Total cost: TWD 2200)

Take the train from Taipei Main Station to Kaohsiung Main Station. Travel time: about 5 hours. Price: about TWD 800-900. For more information on train schedule and price, please visit the official website of Taiwan Railways
From Kaohsiung, take the bus to Kenting.

Regular bus costs TWD 300 and take about 175 mins.
Express bus costs TWD 350 and takes about 145 mins via Expressway no. 88)
You can also rent a scooter from Kaohsiung.
Bus (Total Cost to Kenting: TWD 1600)

Take the bus from Taipei Bus station to Kaohsiung. Travel time: about 7-8 hours. Price: TWD 500- 700. For more information on bus schedule and ticketing, please visit the official website of Taipei Bus Station (currently only available in Mandarin).
Then from Kaohsiung take the bus or the scooter (see bus fare and travel time in the previous section)

Rent a car (total price for one week- TWD 6800)
It takes you a little more than 6 hours to get to Kenting from Taipei. There are plenty of car rentals companies in Taipei or in Kaohsiung. We took this option and found our car on gogoout.com (only in Mandarin but we managed with Google translate)
Price for 5 days: around TWD 5000
One full tank will cost you around TWD 1000-1500 (you'll use around half a tank to get to Kenting the depending on how you use the car, you might need another one to get back home)
And then the toll fees to get to Kenting are around TWD 500- 800
How to get around in Kenting?
If you didn't go for the car option, bus are a cheap option to get around Kenting. They ride all along the coastal road. But you might want to rent a scooter for more convinience .
You can find a lot of scooter rental agencies on Kenting street. Some do not rent to foreigners but for those who do, they usually charge TWD 600 for one day.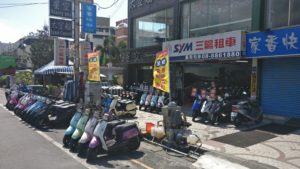 For good deals, go to Feng Xiang Motorcycle Rental on Kenting Street. It is located under the Kenting Space Capsule Hotel (look for grey sign with the letters "SYM" written in Blue and red). Say you come from My Room Abroad and the scooter will cost 500 NTD for the day.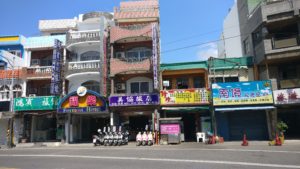 Or a little further in Kenting Street, we also have a partnership with Kenting Bycicle Inn, located under the Meei Shye Hotel (right next to 9117 bus stop). Say you come from My Room Abroad and they'll also give you a discount.
 Where to stay?
In term of housing in Kenting you have a lot of choice. You can find a nice hotel or beach resort for TWD 700 – TWD 35000 (or more) a night. Or you can find a hostel for about TWD 600 a night in low season (double the price for a night during Taiwanese holidays). Check out Booking.com to know more about availabilities and prices. You can also check out AirBnb.
There are also camping grounds where you can set up your tent. Those camping grounds cost around TWD 100 – 200 per person a night. On those sites there are bathroom facilities where you can take a hot shower.
Here are several sites you can go check out:
There is a nice campsite close to Eluanbi Lighthouse: 青山露營區 3 號, No. 234砂島路. It costs TWD 150 per person per night. You can also rent a tent, sleeping bags, a hammock and barbecues. Check out this website for more information (only in Mandarin but easily translatable in Google
There is another one located halfway between Kenting street and Sail Rock. From the starbucks keeps going away from the main road on the right-hand side. There is a sign in Chinese saying 露營區 (meaning Campsite). Then from this sign you go down the road toward the sea. This one is TWD 100 per person per night.
Banana Bay Kenting camping is located at鵝鑾里船帆路238-2號
There are plenty of others, just type camping site in Google maps and go check them out 😊
What to do in Kenting?
Well it depends on what type of holiday you are looking for. In Kenting it can be the chill type relaxing on the beach or adventure and walk type.
Kenting night life is well known. You can party all night and consume your hangover, the day after, sunbathing on a relaxing beach.
There are also plenty of water activities, jet ski, snorkeling, banana boats, etc. It costs around TWD 600. You can find them on pretty much all the beaches White sand Bay, Nawan beach, Kenting Beach, Little Bay Beach, etc…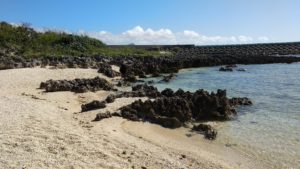 For free snorkeling, go to 小巴里島岩 beach (Little Bay Rock). White coral beach (take some water shoes to not hurt your feet too much). Nice place to snorkel around, see some nice colorful fishes. Down point is it is quite far away and there are not a lot of shadow.
You can walk several trails in the National Park Forest recreation area. Entrance to some of them are charged TWD 150. Other like Shedding park are free.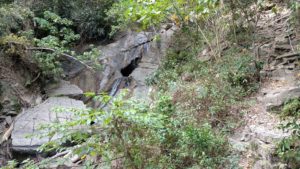 If you like waterfalls, there is a nice one called 7 holes waterfall (about 30 min car ride from Kenting old street). Parking fee is TWD 20 per person. The waterfall is on 7 level, the two highest ones are the best to swim in. You can jump from others, etc. The way up is quite nice for adventurers, you have to grab ropes and climb.
Lastly, there are some nice viewpoints you should not miss if you go to Kenting.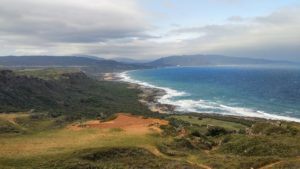 Longpan park. Breath taking view on the wild ocean. Perfect spot for a nice sunset as well.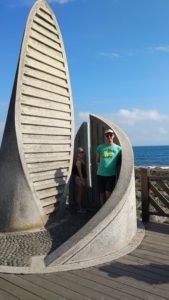 Southernmost point, just so you can say you went to the southernmost point of Taiwan.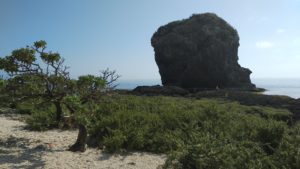 Sail rock, supposedly a nice place to snorkel however, when I went it was not really possible to snorkel due to all the jet skis going fast close to the rock. But still a nice viewpoint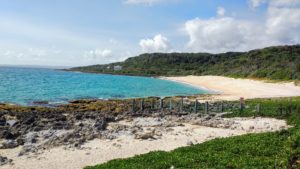 Stop by Shadao to take a nice picture of this wonderful protected beach. It is on the right side of the road when coming from Sail Rock a little before Eluanbi Lighthouse.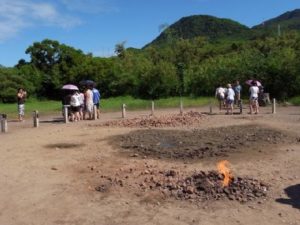 Henchun Chuhuo (Eternal flame), Chuhuo is place where natural gas leaks to the surface and ignites.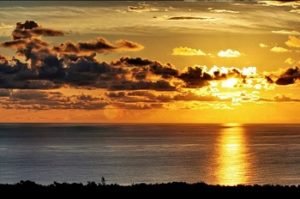 Go watch the sunset at Guanshan.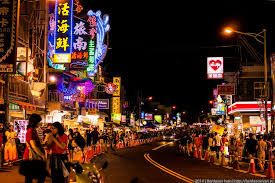 Finish the day in Kenting Old Street where you'll find plenty of food (night market or restaurants).