When abroad for a few months it is always difficult to choose what to do, what to visit. There is no time to visit every inch of the country although it is easier when it is as small as Taiwan. Here are the 10 things I recommend doing before you leave this wonderful country.
Visit the Taroko gorges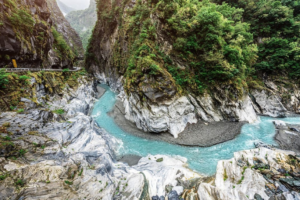 Taroko gorge are in the Taroko National Park, located on the east coast of Taiwan. Taroko means "magnificent and splendid" in the language of Truku, the aboriginal tribe living in the area, as it describes perfectly the deep gorge. The impressive 19km long canyon offers breathtaking views. In one afternoon you can travel from the high coastal cliffs through a maze of forested canyons to high elevation subalpine forest seeing temples and waterfalls and passing through tunnels or suspension bridges. You will find more information on this trip following those links: Taroko official website and on the Guide to Taipei Website.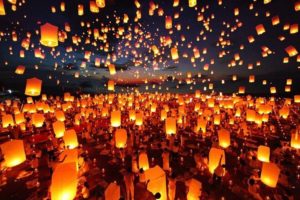 The tradition wants you to write your wishes on the lantern before lighting it and releasing it to the sky. If you are in Taiwan for the Sky Lantern Festival after the Chinese New year, I highly recommend you pass by Pingxi where you will be able to enjoy an amazing night sky full of lanterns flying away. If you are not around in February, no worries, you can release a lantern at any time of the year. The lantern costs between 150 and 200 NT and the nice seller can take pictures of you while you are releasing it and looking it fly away.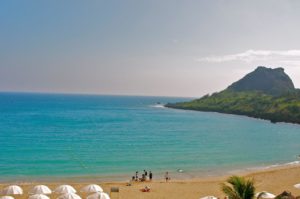 If you head down south for a day or two you will find warm tropical weather and white sand beaches which is perfect for a chill day sunbathing and swimming in the ocean. You're not the 'lay in the sun all day' type, no worries, this place also offers lots of water sport such as surfing, diving, water skiing, jet skiing, etc. The beach fairly holds the title of best beach in Taiwan and you should definitely go check it out.
Jump from a waterfall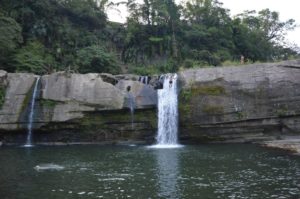 Taiwan is known for its many wonderful waterfalls. I recommend jumping from Lingjiao waterfall. This is 30 min away from Taipei and offers everything you need for a good adrenalin shot while jumping safely from a quite high waterfall. I recommend checking the landing space first, to see if there is no rock or tree stuck underneath the water, the weather in Taiwan make the scenery change every time.
Dive in Green Island's diving sites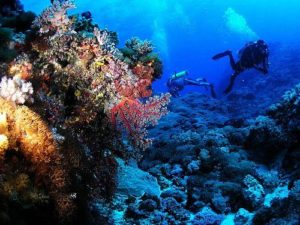 Just off the South-East coast of Taiwan Green Island is a nature lovers' paradise. There is a wall developed marine life with over 600 species of fish, colorful coral reefs and a unique under water topography. Apart from this, divers' main attraction is the shark point. At this dive site you can see schools of hammerheads making their abode during the winter. It is however an advanced dive plus where no novice divers are allowed. Besides diving, activities also include snorkeling, hiking, salt water hot springs and fishing.
Wild camping on top of a mountain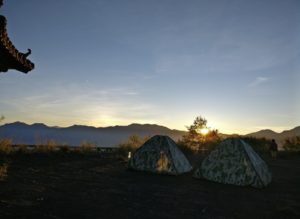 Camping on top of a mountain is certainly a must do in Taiwan. The Island offers tones of wonderful easy-to-hike mountains. There is not always predestined camping spot on top but try to check how it looks like on Google Earth or just go with the flow and set up your tent wherever you find a flat enough spot. Go with group of friends, take some drinks and speakers and have the best private party on top of a mountain. You can make a lot of noise… nobody hears you anyway. Do not forget to bring an extra pullover or blanket since it can get quite windy and cold up there.
Wake up early for the sunrise in Alishan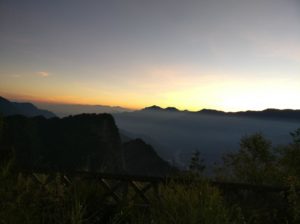 The sunrise in Alishan is a breathtaking event happing every morning between 5 and 6am. Alishan is located at the center of the island, 5 hours ride away from Taipei.
To be able to see everything we slept on the mountain and woke up at 4:30. The landscape was already getting orange and pink taint and it was amazing. The Shushan viewing lot, where you can observe the sun slowly waking up, can get really crowded at some point. I suggest you arrive really early to save you a great spot. On the right of the platform, behind the big barrier with the "do not cross" sign, there are some more stairs and a little further up a wonderful abandoned platform that seems to be the previous viewing spot which offer an amazing a lot quieter without all the tourists.
Chill the afternoon in Hot Springs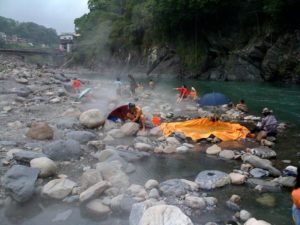 My personal favorite is the Wulai hot spring. It is wild and free. You can make up your own bath with the rocks having the perfect amount of hot and cold water. Notice that since the hot spring is wild, it can easily be destroyed by to the weather. Moreover, be careful before entering the water, always check if it is not too hot, it would surprise you how hot it can get.
Go surfing on the East coast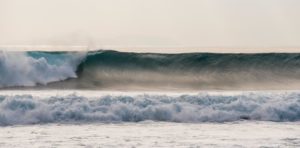 Taiwan's surf potential is great. The north and east coastal areas have some nice beaches that offers great waves for experienced surfers as well as for novices. On the east coast, Wagaligong is halfway between Taitung City and Donghe. The beach offers a perfect uncrowded surfing spot and it great scenery to take nice pictures.
Have a cup of tea in Maokong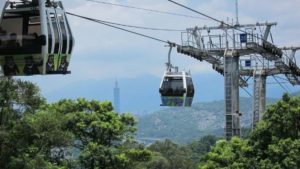 Moakong is a village located on top of a mountain offering an amazing view of Taipei city. It is also known as the most scenic spot to drink a cup of locally grown tea. The interesting thing about this activity is that the best way to reach the village is to take the Maokong Gondola, cable car that brings you up the mountain from the MTR Taipei zoo (50NT one way).